WatchGuard Passport Remote User Security
WatchGuard Passport is a Cloud-delivered security bundle that travels with your user, empowering businesses to secure users anywhere they work.
PERSISTENT, ALWAYS-ON PROTECTION THAT FOLLOWS YOUR USER
Businesses need to be able to extend the security capabilities to users and devices, no matter where they may be.
Employees, contractors, visitors, and their devices regularly enter and leave your network as they perform their duties on- and off-premises. At the same time, a single infected endpoint or stolen password could open the floodgates for an attacker.
WatchGuard Passport gives your employees the Cloud-delivered security they need to work freely from the office, at home or on the go. Each of the services in the Passport bundle provides persistent, always-on protection that travels with your user.
With Passport You can
Authenticate

people and enforce strong, multi-factor authentication into VPNs, Cloud applications, endpoints and more.

Protect

users on the Internet, block phishing attempts and enforce web policy anywhere, anytime without requiring a VPN

Respond

by detecting and killing malware and threats while containing ransomware and related C&C channels.

MANAGEMENT AND DEPLOYMENT FROM THE CLOUD

Passport is 100% Cloud managed, so there's no software to maintain or hardware to deploy. Viewing reports, alerts, configuring services, deploying endpoint clients, and managing authentication tokens are all done in the Cloud. And, with integration with the leading 3rd party deployment tools, you can be up and running with Passport quickly and easily.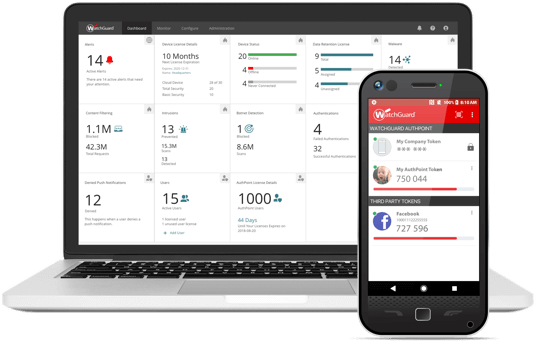 WatchGuard DNSWatchGO
WatchGuard DNSWatchGO provides DNS-level protection and content filtering that keeps your business safe from phishing, ransomware, and other attacks even when your user is outside of the network, without requiring a VPN. By proactively identifying DNS requests bound for malicious content, DNSWatchGO stops risky clicks from becoming major security incidents. When your user clicks a link or enters a web address in their browser, DNSWatchGO monitors and correlates the DNS traffic against our intelligence feeds, identifying and blocking connections to domains owned by the bad guys.
VIEW THE DNS WATCH GO DATASHEET
Secure your users by getting a free 60-day DNSWatchGO trial for up to 250 users by simply contacting your account manager.
WatchGuard AuthPoint
WatchGuard AuthPoint multi-factor authentication (MFA) provides the security you need to protect your assets, accounts, and information. Let your company work confidently and worry-free with the powerful protection of AuthPoint. There is no need to carry tokens, authenticate using a simple mobile app on your phone whilst you can get up and running right away. Manage AuthPoint anywhere, anytime with a user-friendly management platform.
View the AuthPoint Datasheet
Start protecting your staff with a 60-day trial of AuthPoint, for up to 250 users. Contact our experts and we will take care of the rest.
Panda Adaptive defense 360
Panda Adaptive Defense 360 (AD360) is an innovative cybersecurity solution for computers, laptops and servers, delivered from the cloud. It automates the prevention, detection, containment and response to any advanced threat, zero-day malware, ransomware, phishing, in-memory exploits, and malwareless attacks. This level of protection ensures that both present and future threats are eliminated regardless of if they reside inside or outside of the corporate network. Unlike other solutions that focus solely on EDR capabilities, AD360 combines traditional endpoint protection (EPP) with next-gen automated EDR capabilities providing a full protection model to address both known and unknown threats.
VIEW THE PANDA AD360 DATASHEET
Start protecting your staff with a 60-day trial of AuthPoint, for up to 100 users. Contact our experts and we will take care of the rest.
Get in touch
ARRANGE A FREE CONSULTATION TODAY
Our experienced team are here to help understand the way in which you do business and the way your organisation uses technology to deliver results.