WatchGuard - Remote User Security
Ensure your workers are secure no matter where they are.
WatchGuard - Remote User Security
In these unprecedented times we are more reliant than ever on our home internet connections.
We all need to make sure we stay safe online as we work, whether we are in an office or remote working. Network security at home isn't usually something we think about as we trust our ISPs, our antivirus software and our home broadband routers for security. However for now, our home is our workplace and that does brings added risk especially as more and more business is being conducted off-network and outside of an organisations traditional security tools.
That is why we need to be prepared to face not only threats to our health in the current climate but to our cyber safety as well. Kuiper have put together what we feel is a total package to keep you and your users safe while working from home.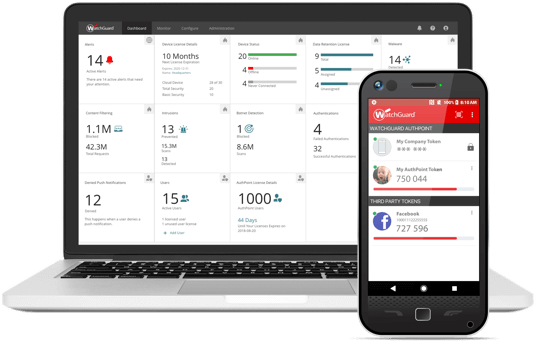 WatchGuard DNSWatchGO
WatchGuard DNSWatchGO provides DNS-level protection and content filtering that keeps your business safe from phishing, ransomware, and other attacks even when your user is outside of the network, without requiring a VPN. By proactively identifying DNS requests bound for malicious content, DNSWatchGO stops risky clicks from becoming major security incidents. When your user clicks a link or enters a web address in their browser, DNSWatchGO monitors and correlates the DNS traffic against our intelligence feeds, identifying and blocking connections to domains owned by the bad guys.
Visit DNSWatchGo
Secure your users by getting a free 60-day DNSWatchGO trial for up to 250 users by simply contacting your account manager.
WatchGuard AuthPoint
WatchGuard AuthPoint multi-factor authentication (MFA) provides the security you need to protect your assets, accounts, and information. Let your company work confidently and worry-free with the powerful protection of AuthPoint. There is no need to carry tokens, authenticate using a simple mobile app on your phone whilst you can get up and running right away. Manage AuthPoint anywhere, anytime with a user-friendly management platform.
Visit AuthPoint
Start protecting your staff with a 60-day trial of AuthPoint, for up to 250 users. Contact our experts and we will take care of the rest.
WatchGuard FireboxV
Organisations of all sizes are turning to virtualisation to reduce costs and increase the efficiency, availability, and flexibility of their IT resources. But virtualisation comes at a cost. Virtual environments are complex to manage and vulnerable to security threats. IT must be prepared. Now applications can be secured, resources can be maximised, and your IT department can reap the rewards of having a single, unified management system – without a security risk in sight. WatchGuard FireboxV brings best-in-class network security to the world of virtualisation. With real-time monitoring, multi-WAN support and scalable solutions to fit any-sized business, your virtual environments can be just as secure as your physical one.
Visit WatchGuard FireboxV
Get strong security at every layer with a free 30-day trial of FireboxV. Contact our security specialists today.
Get in touch
ARRANGE A FREE CONSULTATION TODAY
Our experienced team are here to help understand the way in which you do business and the way your organisation uses technology to deliver results.