Panda Systems
Management
Manage your IT infrastructure simply and proactively with a rapidly integrated solution.
Systems Management is a hosted service for Remote Monitoring and Management (RMM) of all your organisation's devices, whether they are in the office or remote.
Thanks to the simplicity offered by the pre-configured settings, the learning curve is practically non-existent, and it ensures that the organisation's IT infrastructure operates exactly according to plan.
Why Opt for System Management?
It frees up your IT team to concentrate on value-added projects
It resolves problems proactively
It enhances support for new technologies and encourages adoption of BYOD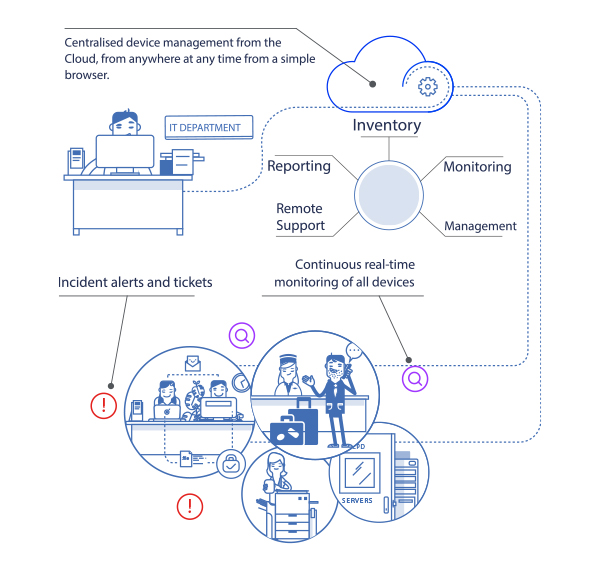 Key Features
100% Cloud-based solution:

No additional infrastructure. Manage all devices at any time and from anywhere.

Agent-free management

of printers and other network devices (routers, switches, etc.) via SNMP, WMware ESXi (with the vSphere client) and MS Hyper-V.

Rapid tasks and scripts:

Create your own scripts or download them from our ComStore. You can also modify them to suit your needs and launch them.

Remote access:

Task management, file transfer, registry editor, command line, event log, etc. Repair devices without interrupting users, even if they are switched off.

Secure access to the service:

Two-factor authentication to verify identities. Encrypted communication with the server.

Alerts and monitoring:

Monitor use of CPU, memory and hard disks, printers low on ink etc, with real-time graphs and alerts.

Patch management:

Automate the deployment of updates and patches for the software installed.

Tickets system:

Organise, classify and prioritise incident resolution. Share and reuse technical procedures for resolving problems.

Management via an extremely lightweight agent

for Windows, Linux, Mac, Android and iOS devices.

Make full use of our ComStore

where you will find hundreds of monitors for applications such as Exchange, SQL and IIS, backup services, etc. Tools for freeing up disk space and many other options.

Software deployment:

Centrally deploy software and updates.

Security certificates:

FISMA, SAS70, ISO 27001 and PCI DSS.
Get in touch
ARRANGE A FREE CONSULTATION TODAY
Our experienced team are here to help understand the way in which you do business and the way your organisation uses technology to deliver results.