Barracuda Cloud-to-Cloud Backup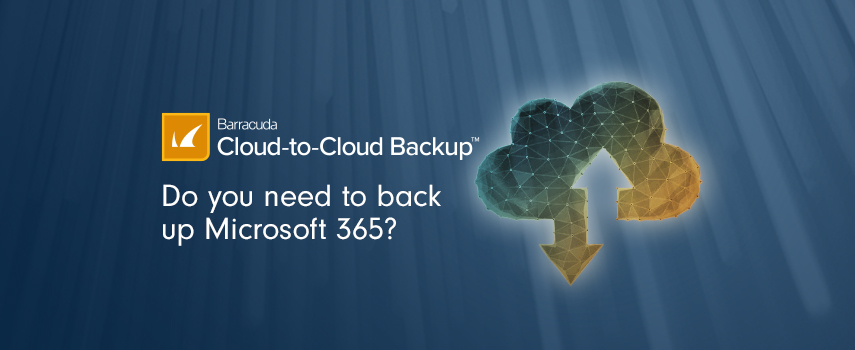 Microsoft 365 has transformed business use of the cloud and it even takes care of your email and data backups…. Or does it?
Microsoft 365 offers you licensing via an easy-to-consume subscription model that can be modified on the fly, and the products can be deployed to multiple platforms or simply used in the cloud. You can access your Office applications and sync and share documents anywhere, even if they're offline, and there's no need for a VPN connection to an on-premises file server. Although it is true that Microsoft has native retention and basic recovery capabilities, and businesses without mission-critical email and documents may find that this suits their needs. Using these native tools or deploying a more robust solution is a business decision that needs to be made upon migration to Microsoft 365.
Protecting Microsoft 365 data
Here are just a few top-of-mind things to consider when evaluating the protection of your Microsoft 365 data:
Data loss due to accidental or malicious deletion of data by end-users is common. If your discovery of the loss takes longer than the configured retention policy, the data is gone. Microsoft SLAs do not protect customers against this.
If your Microsoft 365 administrator account is compromised, your backups could be lost too. Code Spaces is an example of what can happen to your company if you rely on a single provider for data backup.
Will your Microsoft data retention capabilities be able to restore files and accounts in the configuration you need? Even if the data is backed up as needed, the restore process could be more difficult than you want.
Are you legally required to comply with specific retention and potential-litigation policies? Will the native tools provide this capability for you?
Users can accidentally corrupt their data with malware, especially ransomware. Recovery from this scenario can be difficult and time-consuming using built-in capabilities. Versioning in OneDrive and SharePoint can help, but this counts against storage allocation and may result in additional storage costs.
Barracuda Cloud-to-Cloud Backup


Microsoft urges caution and recommends full backups (exact wording published by Microsoft written below)
We strive to keep the Services up and running; however, all online services suffer occasional disruptions and outages, and Microsoft is not liable for any disruption or loss you may suffer as a result. In the event of an outage, you may not be able to retrieve Your Content or Data that you've stored. We recommend that you regularly backup Your Content and Data that you store on the Services or store using Third-Party Apps and Services.

Industry best practice is to use the 3-2-1 rule: At least three copies of data, in two different formats, with one copy stored offline or in the cloud. Following this rule remains one of the best ways to protect your data.
Barracuda research reveals that 67% of organizations are still relying on built-in Microsoft retention and restoration of deleted folders, despite the complexity of those retention policies and the inability to granularly restore items. That's at least 67% of companies that are at a higher risk of data loss.
How Barracuda can help


Barracuda Cloud-to-Cloud Backup offers comprehensive protection for your Microsoft 365 environment:
Exchange Online — All email messages, including all attachments, and the complete folder structure of each user's mailbox.
OneDrive for Business — all files under the Documents Library, including the entire folder structure.
SharePoint Online files and folders in Document Libraries, Site Page Libraries, and Picture Libraries in any of the following: Modern Team Sites, Communication Sites, Team Sites, Publishing Sites and Wiki Sites.
Microsoft 365 Groups — All your mail, calendar, and site data, along with file data shared within the Team associated with the group membership.

For more information on Barracuda, visit our webpage. Get in touch with us today by calling 0330 058 4684 or email contactus@kuipertech.co.uk