Financing Your IT Infrastructure With Kuiper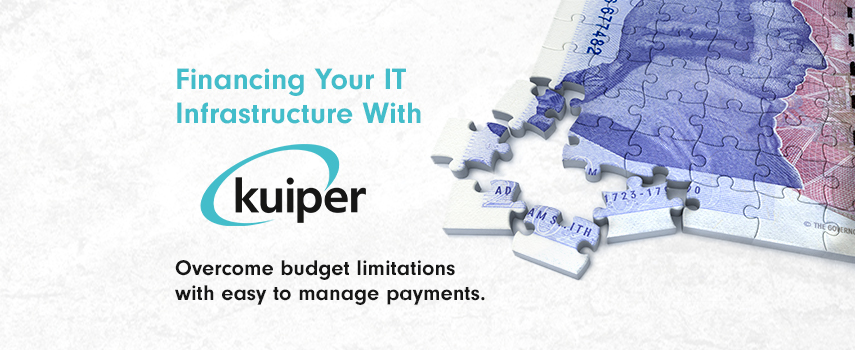 MOVING YOUR IT TO A SUBSCRIPTION SERVICE
There are several benefits in moving from a capital expenditure business model to buying technology assets via a subscription service. Over the past few months, businesses across a variety of industries have chosen to embrace subscription business models, from gaming, hospitality and education through to manufacturing and marketing. We've taken a closer look at some of the advantages of moving to a subscription service and how it can benefit all areas of your business.
WHAT IS A SUBSCRIPTION SERVICE?

Subscription business models bring to life the idea of offering a product or service on a monthly or annual subscription basis. This means that businesses can access high-value products, software, tools or equipment, quickly and easily, without impacting cash flow or having to take large sums out of the business.
WHY IS THE INDUSTRY GROWING?

There are several factors contributing to the growth of this unique business model, including advances in the technological infrastructure that supports it. This model is gaining widespread popularity by offering businesses of all shapes and sizes stability, flexibility, affordability, and convenience.
One of the most popular subscription models involves a product that is being offered as a service, meaning businesses can enjoy access to the latest software, for example, without investing in full ownership. This can save a significant amount of money long term and be flexible and practical to suit the needs of the business.
WHAT ARE THE BENEFITS OF MOVING TO A SUBSCRIPTION SERVICE?
When businesses move to a subscription service, they are essentially shifting IT spend from a capital expense to an operational expense. This means businesses that opt for a subscription service don't have to worry about large upfront investments, replacing them with a more manageable monthly fee.


DESIGNED TO ACCOMMODATE YOUR BUSINESS NEEDS

For many businesses, subscription models allow them to access bespoke offerings that have been designed to accommodate their unique requirements. Appealing to all sectors including the education, housing and healthcare industries, a subscription service provides immediate access to products and services at a lower price point.
CONVENIENCE

Subscription business models are incredibly convenient and can work alongside your business plan or objectives, especially if you require a service for a set time period, whether that's short or long term.
REDUCE THE IMMOBILITY OF A COMPANY'S CAPITAL

Cash is king in any business, and subscribing to a service or leasing equipment is a savvy way to reduce liquid assets and make significant cost savings. This can prove integral to a company's growth and survival, especially in the early stages of business.
STAY AHEAD OF THE COMPETITION

Another benefit of moving to a subscription service is that you will be able to stay one step ahead of the competition, accessing the very latest products and services and upgrading when you need to.
UPGRADES AND UPDATES

It can be incredibly costly to keep up with all the latest upgrades and updates within the technology sector. However, choosing a subscription service will allow you to invest in upgrades and updates more frequently, without it leaving a hole in your pocket.
WHY CHOOSE KUIPER?
Looking to upgrade your IT infrastructure? Look no further than Kuiper.
Here at Kuiper, we can help you stay ahead of your competition with tailored solutions that keep you on top of the latest market technologies and trends. If you want to find out how we can help your business, get in touch today. Our friendly, helpful and professional team is always on hand to help.

Call us on 0330 058 4684 or email sales@kuipertech.co.uk