HPE Nimble Storage - Intelligent, self-managing storage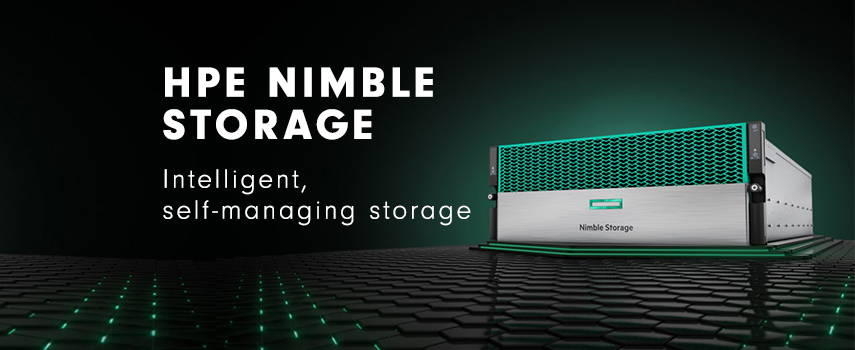 HPE Nimble Storage is an intelligent, self-managing storage that frees you to innovate for your business. It's an experience you'll love.
There are so many reasons IT decision-makers across industries switch to HPE Nimble Storage. From the jaw-dropping customer experience, to the AI-driven transformation of operations via HPE InfoSight, to the guaranteed business-critical performance and future-proofed investment, HPE Nimble Storage simply delivers more.
ELEVATING THE EXPERIENCE
Forget all that time wasted managing storage and fighting fires. It's time to elevate your storage experience with an agile, always-on, always-fast platform that powers everything from VMs to containers to test/dev – while effortlessly extending across hybrid cloud. It's time to experience HPE Nimble Storage.
REIMAGINE STORAGE AS AN ENGINE OF TRANSFORMATION
You have enough to do addressing all the data challenges facing organisations today without also having to deal with legacy storage headaches and disruptions. HPE Nimble Storage makes it easy to start leveraging the power and agility of next-gen storage.
POWER BUSINESS-CRITICAL APPS
Leverage an enterprise-grade platform with proven and guaranteed 6-9s availability and extreme data integrity and resiliency.
ELIMINATE APPLICATION DISRUPTIONS
Count on the predictive intelligence of HPE InfoSight to ensure your apps are always-on and always-fast, with visibility from storage to virtual machines and real-time, actionable recommendations to keep you always-optimised.


LEVERAGE HYBRID DATA MOBILITY AND CLOUD BACKUP
Defy data gravity with true data mobility and effortless cloud backup as you realise the benefits of hybrid cloud for your apps and data.


HPE Nimble Storage All-Flash Arrays
Predicts and prevents issues to help deliver 99.9999% availability and resolves 86% of issues autonomously.
HPE Nimble Storage Adaptive Flash Arrays
Hybrid flash for mixed, mainstream workloads. Secondary flash for backup and disaster recovery.

Check out the Business Value of HPE Nimble Storage with our helpful infographic
WANT A QUICK 5 MIN INTRO TO HPE NIMBLE STORAGE?
This technical lightboard takes you through the basics of Nimble and it's design principles, as well as the benefits it can bring to the table for your enterprise Tier 1 & Tier 2 datasets.


For more information on HPE Nimble Storage or to view other HPE solutions visit our dedicated webpage or get in touch by calling us on 0330 058 4684 or emailing contactus@kuipertech.co.uk.