Kuiper Managed IT Services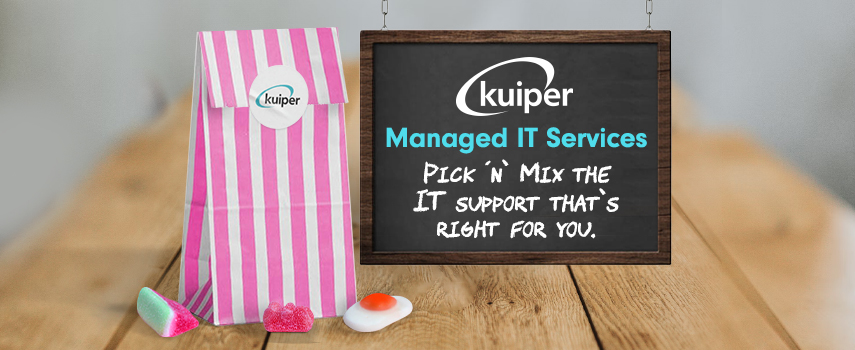 Everything used to be much simpler in the "good old days", and in many ways modern IT can be a little like Pick 'n' Mix.
Sometimes we would choose things that were sweet and go down well. Other times we would end up with something sour and leave a nasty taste in the mouth.
As with IT, any potential shortcomings within your IT systems could begin to directly impact on your ability to do business, so choose Kuiper and put a smile back on your face.
Managing your IT can be a drain on your valuable resources, with on-going issues and fundamental tasks taking up your precious time. When similar faults occur again and again it becomes even more of an inconvenience to your business and de-motivational to your staff. By adopting Kuiper as your trusted partner for part of, or full management of your IT systems and support for your users, we will find the solution to solve your reoccurring issues, free up your valued resources and overall increase your efficiency and productivity.
We are certain Kuiper will have an IT service that is your "bag" and puts that smile back on your face.
A virtual extension of your own IT team, without the long-term commitment of a fully managed service desk.
Kuiper Technology offer Remote Engineer Credits (telephone, email & remote access) for organisations who want a multi-vendor support service that is designed to be a virtual extension of your own IT team, without the long-term commitment of a fully managed service desk. This service is used to provide reactive technical assistance to organisations who find their internal IT support requires more in depth product knowledge in certain areas, or for when key internal IT staff are on holiday, maternity/paternity, illness or busy with other projects.
Outsourcing a significant percentage (or all) of your IT support to Kuiper means your business can focus on what it does best and leave the day to day IT to us.
Kuiper provide enterprise-class hardware, software and network support that increase your productivity and maintain optimum system uptime. There may be occasions when your in-house IT Department may be overstretched or depleted. In some cases, you may not have the budget to employ full time IT expertise. Your organisation will still be required to safeguard your IT Systems and ensure they are working efficiently so that you can continue to operate effectively.
Kuiper delivers a wide range of IT services to small, mid-market and enterprise organisations. Our break fix maintenance ensures total protection for your IT Hardware and if a fault occurs our engineers will be dispatched onsite to fix within an agreed service level agreement.

Kuiper is a recognised, established and trusted choice for those who are proactive in their approach to their IT infrastructure. Our Break Fix maintenance services are multi-vendor and any items of hardware can be put under a maintenance agreement from 6 months up to 5 years should you choose to do so. If an item of hardware under cover develops a fault, we will respond and fix it within the agreed service level agreement. If an item isn't under cover you have no need to worry, we are here in case of an emergency and engineers are on hand ready to be called upon ad hoc on a time and materials basis.
We work with all major hardware types – servers, storage, desktops and laptops, EPoS, peripherals and communications hardware – from all leading manufacturers including HP, HPE, Dell, IBM, Lenovo, EMC, Fujitsu, NetApp and many more.
For more information on our Managed IT Services, contact us today by calling us on 0330 058 4684 or email contactus@kuipertech.co.uk.