ICT Services For Schools
Harness the full potential of technology, create an enriched learning environment for students and a seamless operational experience for educators.
Above and Beyond End-to-End ICT Support for Schools
In today's rapidly evolving digital landscape, Kuiper's mission is to go above and beyond to provide unparalleled ICT support to educational institutions. Our commitment is to ensure that schools harness the full potential of technology, creating an enriched learning environment for students and a seamless operational experience for educators.
Everyone here at Kuiper believes our core values impact everyone and everything we do, no matter whether we are supporting business customers or educational institutions.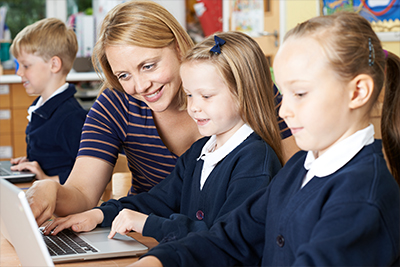 Why you need to consider Kuiper
We strive for excellence in everything we do and we aim to be experts in our field becoming a flexible, agile and trusted partner to all our valued customers. We believe that through the solutions we provide we can have a huge impact on the way people work and live, changing them for the better. We are committed to our people, dedicated to our customers and passionate about being the very best we can be. That's why Kuiper can be a trusted and reliable ICT partner for you and your school.



What are the ICT Services we can offer to Schools and Educational Institutions?
You are very welcome to browse through our website and discover the whole range of end-to-end ICT services we can offer, but here are a few specifically picked out to be relevant to your School:
Computer Labs: State-of-the-art setups with high-speed machines, ensuring students have access to the best tools.
Interactive Whiteboards:Transforming traditional classrooms into interactive learning hubs.
Cloud Solutions: Offering schools the flexibility to store data securely and access resources from anywhere.
Wi-Fi Solutions: Campus-wide high-speed Wi-Fi, ensuring connectivity in every nook and corner.
Server Room Procurement and Continual Maintenance: Supply, installation and ongoing maintenance to ensure smooth operations for all of your networking, servers and storage.
Bandwidth Management: Ensuring optimal distribution so that critical tasks always get priority.
License Management: Ensuring all software is licensed, updated, and compliant with regulations.
Firewalls & Intrusion Detection: Cyber security without compromise. With advice and support to give you complete peace of mind that your data and users are safe.
Regular Audits: Checking for vulnerabilities and ensuring they're addressed promptly.
Digital Literacy: Training students and staff about the importance of digital safety and best practices.
Visitor Management: A complete and cohesive approach to managing site access giving you maximum traceability for all your staff, contractors and visitors.
How do we support ICT in Schools?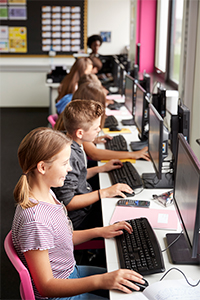 Our experience Managed IT Support offers a dedicated helpline or if you prefer, email ticketing system, so you can get in touch with us to address any IT-related queries or issues. We provide remote troubleshooting, so our team can remotely access your systems to provide quick solutions, ensuring minimal downtime or lack of user experience. If you need us to visit the school in person, we provide on-site support for more complex issues, with our team always being ready to visit and address problems in person.
We're more than just an IT support company; we're your partners in shaping the future of education. Reach out for a comprehensive IT audit and consultation, we'd love to hear from you.
Get in touch
ARRANGE A FREE CONSULTATION TODAY
Our experienced team are here to help understand the way in which you do business and the way your organisation uses technology to deliver results.