Data Loss Prevention
Protect your business's most sensitive data with DLP Managed Services.
Data Loss Prevention Managed Services explained
Are you losing control over your sensitive data without even knowing it? As your business grows, the risk of sensitive data being breached increases at an alarming pace. Small and medium businesses need to remove the risk of sensitive information leaving their company.
Acronis DLP managed service empowers your organisation with unmatched protection against data leakage risks that can be harmful to your business. Every business is unique in terms of its sensitive data and how it flows within different processes, so the DLP Managed Service provides you with Acronis' technology skillset along with next generation security tools that automatically create custom policies to fit your internal processes. Your DLP solution will detect and prevent data breaches, and protect from the exfiltration of your company's sensitive data.
Block risky data flows across all of your user channels



Three most utilized use cases for our DLP Managed Services
Compliance
Does your company collect and store Personally Identifiable Information (PII), Protected Health Information (PHI) or payment card information (PCI)? Regulations such as HIPAA, and GDPR (EU) require you protect your customer's sensitive data.
Sensitive information protection
Does your company have important trade or state secrets that could put your organization's financial health and brand image at risk if lost or stolen? Context-based classification of intellectual property can protect against unwanted exfiltration of this data.
Data Visibility
Gain additional visibility into data movement within your company such as within endpoints, networks, and the cloud. Understand how users in your organization interact with data.
Read How to Stop Your Sensitive Data From Leakage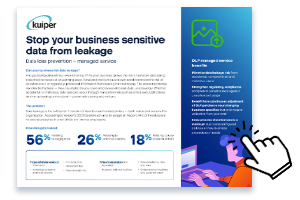 How does the DLP Managed Service work?
Our technology and service delivery team will set up an automatedplatform that baselines and profiles user activities, connections and dataflows and create an initial DLP policy that's specific to your business —ensuring protection against the most common causes of data leaks tounauthorized persons.
Policies, specific to your business, will be created with a unique,behavior-based approach, and will be presented in an easy-to-understandgraphical way to be validated by your business leads.
After the policies are validated, our team will enforce them andprotect your sensitive data against leakage with 24/7/365 coverage acrossnetwork channels and peripheral devices. Optimally, the enforced policies canbe continuously adjusted to your ever-changing business processes with onlyperiodic validation required from your end. This creates an effective barrieragainst data breaches — now and in the future.
Get in touch
ARRANGE A FREE CONSULTATION TODAY
Our experienced team are here to help understand the way in which you do business and the way your organisation uses technology to deliver results.