Cyber Security Awareness Training
Calculate your risk. Empower your workforce. Secure your business.
Cyber Security AWARENESS TRAINING
Technology alone isn't enough to safeguard your business
Even with top-of-the-range endpoint protection, cyber criminals will find intelligent ways of getting through the cracks. When they do, they'll use sophisticated social engineering techniques to manipulate your employees into giving away sensitive information.
Your employees aren't your weakest link - they're your first line of defence against cybercrime.
A lack of regular security awareness training, up-to-date communications and virtually no way of tracking user behaviour is often the main cause of employees falling victim to attacks. With an effective security awareness training solution, you can transform your users into a solid first line of defence for identifying, avoiding, and reporting sophisticated attacks.
Train your employees to combat cyber threats and drive secure behaviour.
Implement a proactive approach to reducing employee cyber risk by delivering effective computer-based security awareness training. Train your users on key threats like phishing, social engineering and password hygiene, while simulating mock-phishing exercises that analyse employee vulnerability to targeted attacks.

Empower Your Workforce and Secure Your Business
Kuiper Cyber Security Awareness Training aims to offer you everything you need to tackle human risk.
Our service is available on a flexible, tiered pay as you go subscription service. There are two tiers of service available with the option to add on our centralised Policy management tool, uPolicy.
Kuiper's flexible monthly billing is designed to have minimal commitments, making it easier for you to opt in and start experiencing the true value of Kuiper Cyber Security Awareness Training without worrying about long-term annual subscription costs.
Our customers often experience the immediate value by being able to understand their unique human risk areas and knowing exactly how to reduce them. After a few months, Kuiper Cyber Security Awareness Training is embedded as a standard internal process that is continuously demonstrating impact through ongoing reporting and human risk scoring - which is great for making the platform become a mainstay in your business and encouraging long-term use.
Both Cyber Security Awareness plans require minimal administration time, with automation and ready-made templates pre-loaded into the platform. You can take charge and build your own custom courses to cater for the exacting demands of your business, edit and send phishing templates and policies in minutes. If you don't have the time to manage your own courses, we can work closely with you to create exactly what you want, providing you with a fully managed service tailored to your exacting requirements.
Plan

Service
Admin

Price

Core

uLearn

Self-Managed Automated user training
uPhish

Self-managed Automated Phishing tests
Admin Time = Very Low

Send and Forget

Launch full program in a flash
£2.50 per user per month

CSAT-CORE-USER

uBreach

Automated Breach Scans
Reporting

Automated Reporting

Advanced

Fully Managed Custom Phishing Campaigns

Bespoke Phishing emails created for the exacting demands of your business
Fully Managed Custom Training Campaigns

Bespoke Cyber Security Awareness Training created for the exacting demands of your business
Admin Time = Very Low

All benefits of Core with Kuiper managing your Phishing emails and Training Campaigns

Regular reviews
£3.50 per user per month

CSAT-ADVANCED-USER

uPolicy
Add-On

Eliminate policy pains and automate staff approvals
Keep staff well-versed on security standards
Centralise policies, automate approvals and keep clear audit trails
An add-on to Core or Core + Advanced service. Self-service policy management
+ £0.50 per user per month

CSAT-UPOLICY-USER

Tackle Human Risk
Kuiper Cyber Security Awareness Training tackles human risk through a proven formula. We'll calculate the risk to your business by shining a light on your organisation's current employee security posture and generate a free Human Risk Report (HRR) that outlines your Risk Score and a step-by-step action plan. After this point, we will look to reduce risk by enrolling your staff on their personalised Human Risk Management programme, with bite-sized training courses and periodic phishing simulations that strengthen their security behaviour. Finally, We monitor risk by helping you understand the impact of your Human Risk Management programme with regular summary reports that outline training performance, phishing results and your ongoing human risk score.
We have the following helpful videos for you to watch to explain a little more about the features of our service.
Your one-stop solution for a security-savvy workforce
Kuiper understand and strengthen your business's security posture against human error and user-targeted attacks through ongoing Human Risk Management. Check out our informative resources to understand more on why you should consider Kuiper Cyber Security Awareness Training.

How quickly could your business be breached?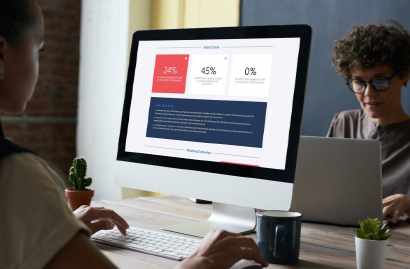 How quickly could a cybercriminal exploit your employees and breach your business? Get your free Human Risk Report to understand your human risk areas and how to fix them.
1. We'll shine a light on your human risk

We'll scan your domains for dangerous lookalikes, search the dark web for stolen user credentials and simulate a targeted employee phishing attack.
2. You'll get a free one-page report

We'll compile the results into a one-page risk summary, outlining your organisation's Human Risk Score and how quickly you could be breached.
3. Get actionable tips to reduce the risk

Knowing your human risk is just the start. We'll outline the clear step-by-step process you can undertake to tackle your unique human risk areas.
Get your free Human Risk Report Today
Fill in the form to request your free report
We'll get in touch to grab a few details
You'll get your full Risk Report via email and we will follow up to answer any questions you may have
Get in touch
ARRANGE A FREE CONSULTATION TODAY
Our experienced team are here to help understand the way in which you do business and the way your organisation uses technology to deliver results.