Do You Own a WatchGuard Appliance?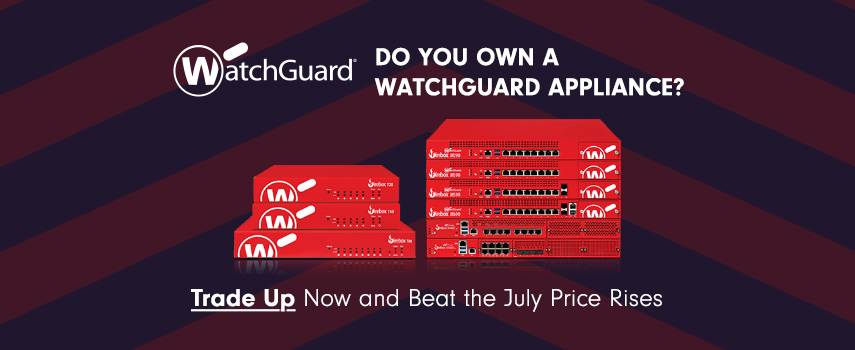 Do You Own a WatchGuard Appliance? Trade Up Now and Beat the July Price Rises
If you are an existing WatchGuard customer, you will know that the security and peace of mind WatchGuard provide is second to none, putting you back in charge of your network with widely deployable, enterprise-grade security and threat visibility tools suitable for any organization, regardless of budget, size, or complexity. However, due to the current economic situation around the globe, WatchGuard will be increasing pricing on their Firebox devices from July 1st. As a result, we wanted to make sure you knew that if you have an existing WatchGuard Appliance, you can TRADE UP today and take advantage before the price increase.

Why Trade Up?
Replace your aging products with the best WatchGuard has to offer, keeping you a step ahead of the evolving threats while modernizing your network, only available on the new WatchGuard Firebox platform.
Find out the lifecycle of your WatchGuard Product by viewing the WatchGuard End of Life Policy.
SD-WAN
Zero-touch deployment at remote
sites and strong encryption.

WatchGuard Cloud
Centralised Cloud-based management
platform for all your WatchGuard devices.




IntelligentAV
A signature-less anti-malware solution that
uses AI to automate malware discovery.




ThreatSync
Threat intelligence to detect, prioritise and enable
immediate action against malware attacks.




DNSWatch
Reduce malware infections by detecting
and blocking malicious DNS requests.




Access Portal
Clientless VPN solution supporting
single sign-on (SSO).
Network Discovery
Visual mapping of all nodes on your network for risk management.
How the Trade Up Program Works
Trade an earlier-generation WatchGuard appliance and move up to a new WatchGuard solution at up to 25% off the standard purchase price. The program includes options to trade up to a physical appliance or to a virtual appliance.
To activate Trade Up products, the owner must retire an earlier generation WatchGuard appliance.
By retiring a WatchGuard product, it no longer appears among your managed products; it is not capable of upgrades, add-on activation, or software downloads; and ownership cannot be transferred. Not all devices are eligible for all Trade Up appliances. Appliances purchased through WatchGuard's HA (High Availability) promotion are not eligible for trade up.
How To Purchase a WatchGuard Trade Up Product
If you have an eligible product you would like to trade, simply purchase the unique Trade Up part number that corresponds to that product, all replacement part codes are available from Kuiper, and the your discounted trade up price will be made available instantly.
Not a current WatchGuard customer?
It's time to get Red Instead! There are many reasons to look at upgrading your current security firewall. Now, trading in a competitor's appliance for the award-winning technology from WatchGuard couldn't be easier. Whether your network calls for a next generation firewall or full UTM security, WatchGuard offers both physical and virtual solutions to meet your needs now and into the future. And with special pricing, why wait? With the WatchGuard Red Instead program, you can trade in any manufacturer's security product to receive an industry-leading WatchGuard Firebox. Our top-of-the-line solution ensures that your organisation receives the security that you need, with the usability that you want. Best news? You just pay for the security services – it's like getting the box for free! Terms and conditions apply. Get in touch with us today to find out more.
Check out the latest WatchGuard Firebox Ranges
For more information on WatchGuard, call us today on 0330 058 4684 or email contactus@kuipertech.co.uk