Managed Services
SERVICE DESK
Providing enterprise-class hardware, software and network support solutions that increase your productivity and maintain optimum system uptime.
A SIMPLE, USER FRIENDLY, SOLUTION TO SUPPORT YOUR ORGANISATION
Kuiper Technology Service Desk is here for you, to help safeguard your users, your IT systems and to help prevent the loss of your important resources.
There maybe occasions when an organisations in-house IT Department may be overstretched or depleted. In some cases, you may not have the budget to employ full time IT expertise. Your organisation will still be required to safeguard your IT Systems and ensure they are working efficiently so that you can continue to operate effectively, especially now that many technologies are transitioning from physical devices to cloud and software-based applications.
That is why we have tried to make Kuiper Technology Service Desk a simple, user friendly, no nonsense solution to support you and your organisation.
If you expect your IT personnel to handle daily IT issues from your users as well as maintain your servers and networking, then you are not on your own. We service many organisations of all sizes who have all tried to adopt a "Do It Yourself" strategy in an attempt to keep operating costs down. What they tend to find is that IT professionals get inundated with simple user requests, but do not have the time to answer all of them in a timely manner. That then escalates to having many issues that an IT professional could do without which draws their focus away from more important IT tasks. This has an impact in time and financial resources long term. It may also mean that with the important IT issues going unnoticed you could end up with serious downtime.
Download our IT Service Desk Brochure for more information.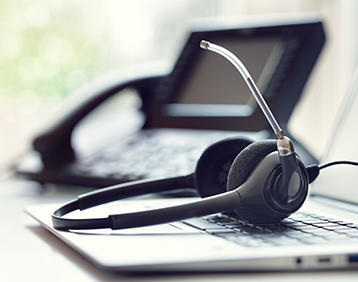 CHOOSE THE RIGHT MANAGED SERVICE FOR YOUR BUSINESS
We have tried to make Kuiper Technology Service Desk a simple, user friendly, no nonsense solution to support you and your organisation.
That's why we offer two types of IT support; User Desktop Support where we price per user per month, and Infrastructure Support where we price per device per month.
USER DESKTOP SUPPORT
Our User Desktop Support covers each individual Computer user within your organisation.
We define that by your users having a Domain User Profile, being an Active Directory User or having an Office 365 / Microsoft 365 user profile. For On-Site IT support please refer to our Standard Engineer Day Rates.
INFRASTRUCTURE SUPPORT
Our Infrastructure Support covers hardware Devices found within your IT network.
This includes devices such as Servers, Storage, Firewalls, Routers and Network Switches. For On-Site IT support please refer to our Standard Engineer Day Rates.
Our Service Desk Support excludes hardware break-fix maintenance. Break-fix maintenance is available for hardware devices via eCarePlus, our own brand of IT Hardware Maintenance Services.

Kuiper have been an I.T supplier and trusted adviser for the past 4 years. They have been collaborative in their approach and have supported us with integrity over the period of our relationship.
Sean Sanpher, PPB Ltd


Kuiper had been very persistent in wanting to talk to us and were quick to propose Huawei's video conferencing solution. On seeing a demonstration at Huawei's centre in the Netherlands, we were immediately impressed with what we saw and decided to include it in our selection process.
Stephen Walters, P&O Ferrymasters

I am so proud of our team and I would challenge anyone to find a more committed, attentive and flexible organisation anywhere else. Each person works tirelessly to develop and improve themselves, our company and our customers.
Stuart Hall, Director

I've been at the company for 6 years and there's never a dull moment. I enjoy working with our amazing team every single day and we are all very supportive of each other.
Adam McManus, Digital Marketing Executive

I am responsible for ensuring that our customers are supported day to day and getting the right information they need at the right time. No day is ever the same and has its challenges but I always go home with a smile on my face.
Jo Boyle, Internal Sales Support

I really enjoy coming to work and being part of a successful growing company. I feel that I'm a valued member of the team and that everyone has my best interests at heart.
Ronnie-Leigh Kelman, Internal Sales Support

I have the privilege of being account manager for some of our key clients. I serve each of them to the best of my ability and pride myself in going above and beyond. I am their trusted advisor and ensure I am available for them around the clock.
Steve Randhawa, Senior Business Development Manager

We believe that through the solutions we provide, we can have a massive impact on the way our customers do business, changing them for the better. We are committed to our people, dedicated to our customers and passionate about being the very best we can be.
Neil Jelley, Head of Sales
Get in touch
ARRANGE A FREE CONSULTATION TODAY
Our experienced team are here to help understand the way in which you do business and the way your organisation uses technology to deliver results.